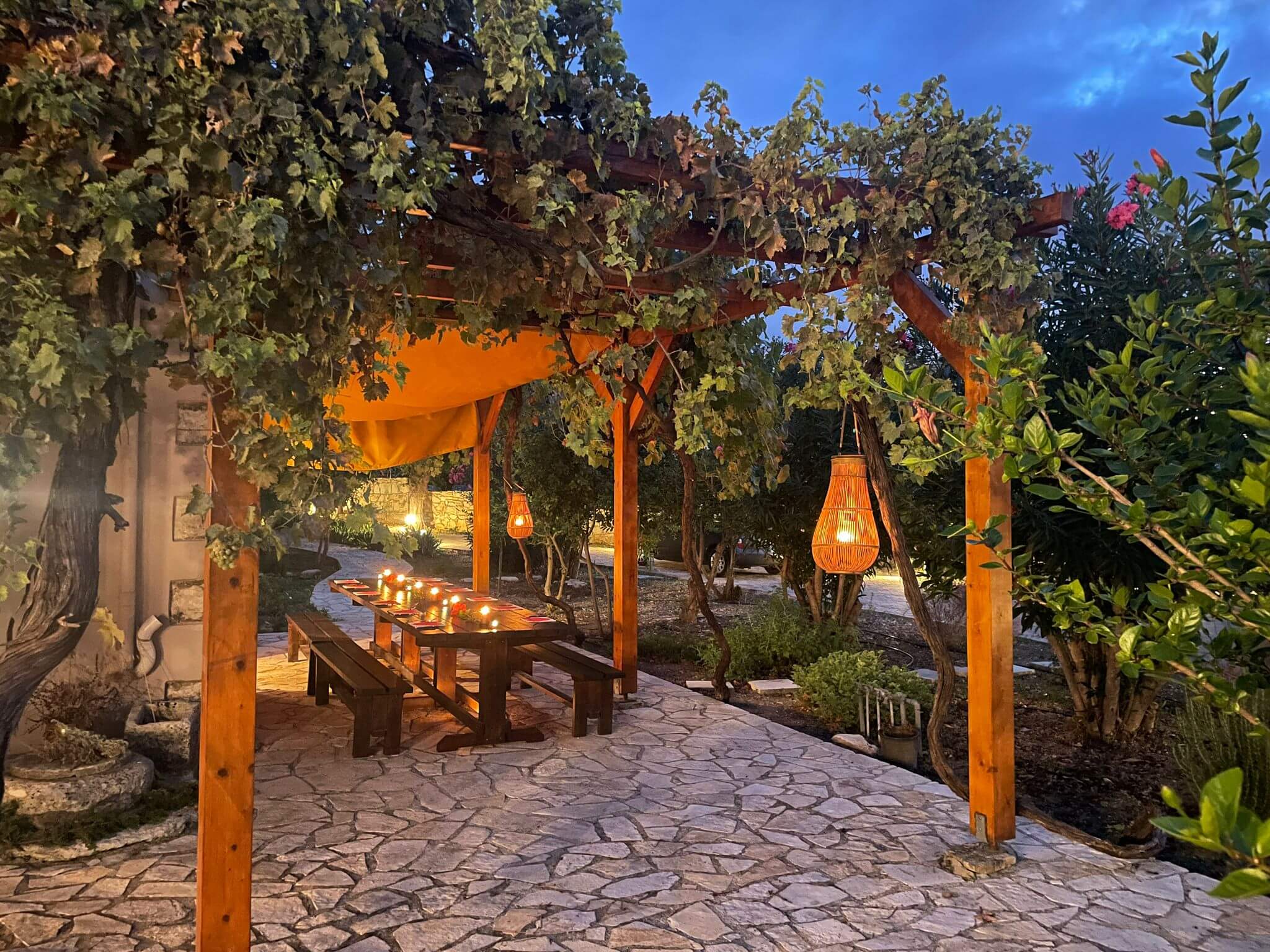 Catering For Your Retreat
Hire one of our chefs, each carefully selected for their passion, care and ability to include your specific needs, or enjoy the use of the kitchen to provide your own food for your retreat (terms apply, please read our Terms of Booking).
Our chefs can provide three meals per day and can be hired on a daily basis, for a minimum of two meals per day.
If you wish to visit some of the delicious restaurants in the surrounding area, you may need to hire a minibus or taxi: please check out our transportation options on the Location page.
Our cooks are chosen for their flexibility and sensitivity to the unique needs of each retreat. They all use seasonal and regional ingredients.
Contact us and we will put you directly in touch with your cook in order to tailor the menu to your specific needs and requirements. We provide tea, coffee and fruit between meals. It is your responsibility to provide any additional drinks, snacks and deserts or we can provide them at an extra cost. Please get in touch to discuss your specific needs.
Click here to see a sample menu.
Breakfast
Breakfast will vary each day but include:
Seasonal Fruit Salad
Fresh 'Xoraiatiki' bread and toast with butter and homemade preserves and local honey, Greek Yoghurt and Granola. Fresh Local Eggs (boiled, Scrambled, fried, poached)
Cretan Cheese, Olives, Fresh Tomatoes and Summer Crudites
Every day there will be a freshly cooked speciality dish (e.g. Wild 'Xorta' Omelette, Spanakopita, Raw Oat Porridge, Banana Pancakes, Fruit and Seed Breakfast Bars)
Tea, Coffee, Herbal Teas, Fruit and Botanic Infused Waters, Cretan Mountain Tea with be available at our drinks station
DINNER
Day 1
Gemista: A classic Cretan dish, fresh seasonal vegetables (peppers, tomatoes, courgettes and aubergines), stuffed with rice, and wild herbs

Tzatziki: Greek yoghurt with cucumbers, garlic, and 40-year-old village vinegar

Dakos: Cretan rusk topped with tomato, feta, olives and capers

Mixed seasonal salads with fresh herbs

Greek Yoghurt with "koutalia", homemade preserved fruits in honey. Fresh Fruit
Day 2
Chicken Baklava: Chicken marinated in honey and spices, topped with feta, pomegranate, roasted pistachio and mint

Cretan Crispy Roasted Potatoes with rosemary, lemon and locally gathered sea salt

Summer Coleslaw with fresh 'anitho' (dill), yoghurt and local walnuts

Beetroot Salad

Greek Salad with capers and wild kritamos (a locally sourced samphire)

Fresh Bread

Dark Chocolate Mousse and Fresh Fruits
Day 3
Octopus or sea bass cooked in fresh tomato sauce, village vinegar and black olives

Cretan potato salad (no mayonnaise)

Feta Saganaki (fried cheese)

Mixed seasonal salads with fresh herbs

Crusty Sourbread Toast

Mandarin Jaffa Tarte: No sugar, no flour, no butter
Day 4
Rainbow Spinakoppitta Pie: A twist on the classic Cretan Dish

Dolmades (stuffed vine leaves) with yoghurt

Local chick pea and wild horta curry

Hasselback Potatoes with lemon, garlic and parsley

Homemade pitta and hummus/aubergine dips

Fresh Mixed Salads

Baklava stuffed dates with ice cream
Cretan Wine (Boutari) can be sourced and delivered on request and all meals can be altered dependent on how guests feel on the day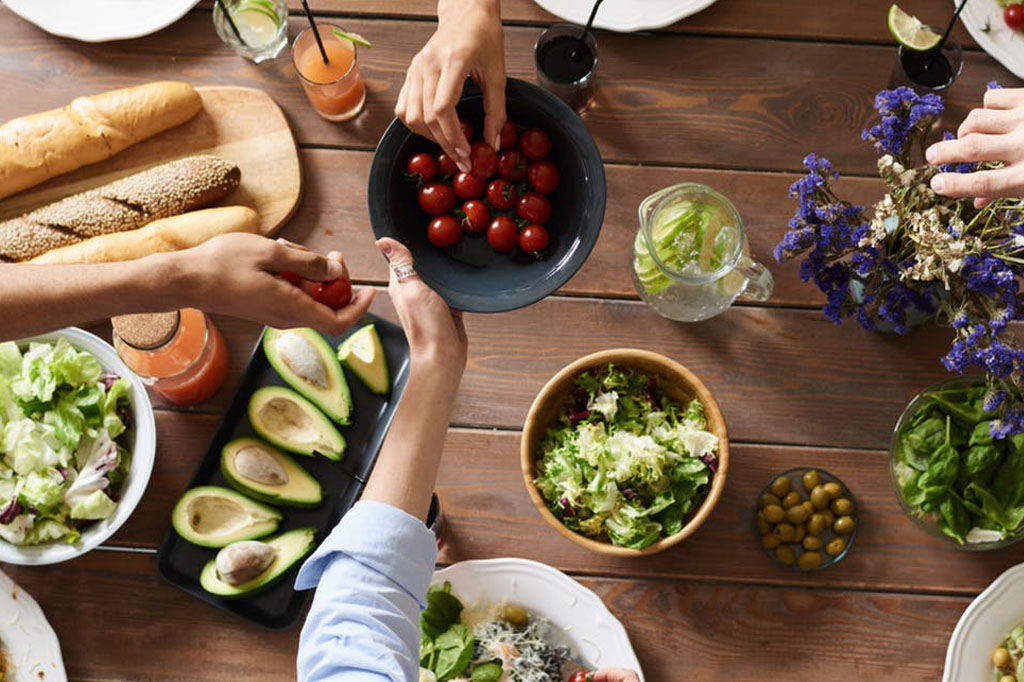 Pierre mixes Greek cuisine with influences from various cultures (Eastern, Western, Northern and Southern). He caters for all dietary requirements. Below are some ideas of what is possible for him to provide. He can tailor his menu in accordance to your needs and preferences.
Breakfast
A breakfast menu can include a combination of some of the following:
yoghurt, fruit and nuts, honey, jams, fresh bread, eggs, cheese, various dips combined with vegetables and pancakes.
Lunch and Dinner
A typical lunch / dinner menu includes salads, Greek meze, a light main dish with soup. He will serve meat but no more than three times per week. The meal is typically accompanied by dessert.
Mezes include fava, hummus, dakos, skordalia, tzatziki, kalitsounia. Typical salad dishes include beetroot with avocado and nuts, cauliflower with carrots and lettuce, greek salad and mixed bean salad. All the ingredients are seasonal and therefore will vary.
Vegan/ Vegetarian
Typical main dishes can include stuffed peppers, cabbage rolls, indian dhal, vegetarian keftedes (burgers), vegetable stew, roast sweet potatoes with pumpkin, various tarts and pizza, stuffed aubergines, dishes with legumes, roasted vegetables.
The soups include pumpkin soup, potato soup, lentil soup, tomato soup, various noodle soups. Often soups are accompanied by saganaki (a traditional Greek fried cheese dish).
Meat and fish
The meat dishes are generally based on traditional Greek cuisine such as stifado, kokkinisto, bifteki, roasted chicken or lamb. Additional dishes can include chicken curry or schnitzel, shrimps saganaki (fried shrimps with cheese), tuna noodles. Fresh fish is also possible often at an additional cost.
Dessert
Typical desserts include yoghurt with fruits or honey, pittas, cheesecake and other cakes.